From government supporting policies to STI capability and to STI resources … global technology diplomats rushed to extend an olive branch to China for science and technology cooperation at the Technology Diplomats' Information Connection Action. Information connection enabled effective communication between embassies of different countries to China and Chinese innovation institutions, shared technology, project, S&T conditions and other S&T related information, and enhanced practical cooperation between Beijing and international innovators.
Mr. Chen Gang, director of Department of International Cooperation of Beijing Municipal Science & Technology Commission introduced significant achievements made by Beijing in international S&T cooperation. "First, efforts were made to build cross-border cooperation platforms and expand channels and matchmaking resources for facilitating and serving innovation cooperation; second, China (Beijing) International Technology Transfer Convention was successfully held to orderly promote international technology transfer of innovators in Beijing; third, guidance and service were provided to innovators establishing international scientific and technological cooperation, exploiting innovation cooperation potential, and making a new attempt to provide support to international cooperation projects; fourth, international STI resources of the capital are used to implement national strategy and boost cooperation with countries along the One Belt One Road route" , Mr Chen Gang said.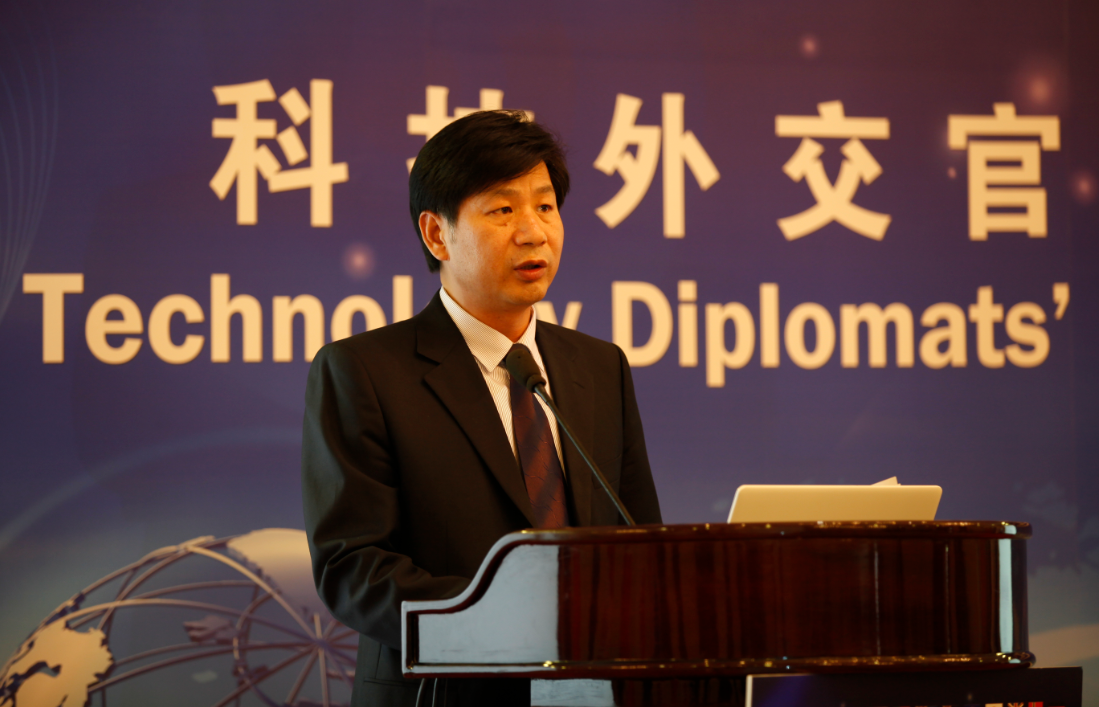 Mr. Chen Gang Delivering Speech about International Science and Technology Cooperation in Beijing
Mr. Christopher MacLean, Commercial Counsellor of Embassy of Canada in Beijing said, "Canada has put more emphasis on exploiting markets in Asian emerging countries and Latin America and signed bilateral S&T cooperation agreements with 13 counties and regions including China." He also expressed Canada's willingness to extend cooperation into areas such as energy and environmental protection.
Mr. Ian Macintosh, Commercial Counsellor of Australian Embassy, mentioned that Prime Minister Malcolm Turnbull just led a delegation of more than 1,000 business leaders of Australian SMEs, the biggest ever trade delegation of this kind, to visit Shanghai. He said, Australia hopes to deepen cooperation and partnership with China.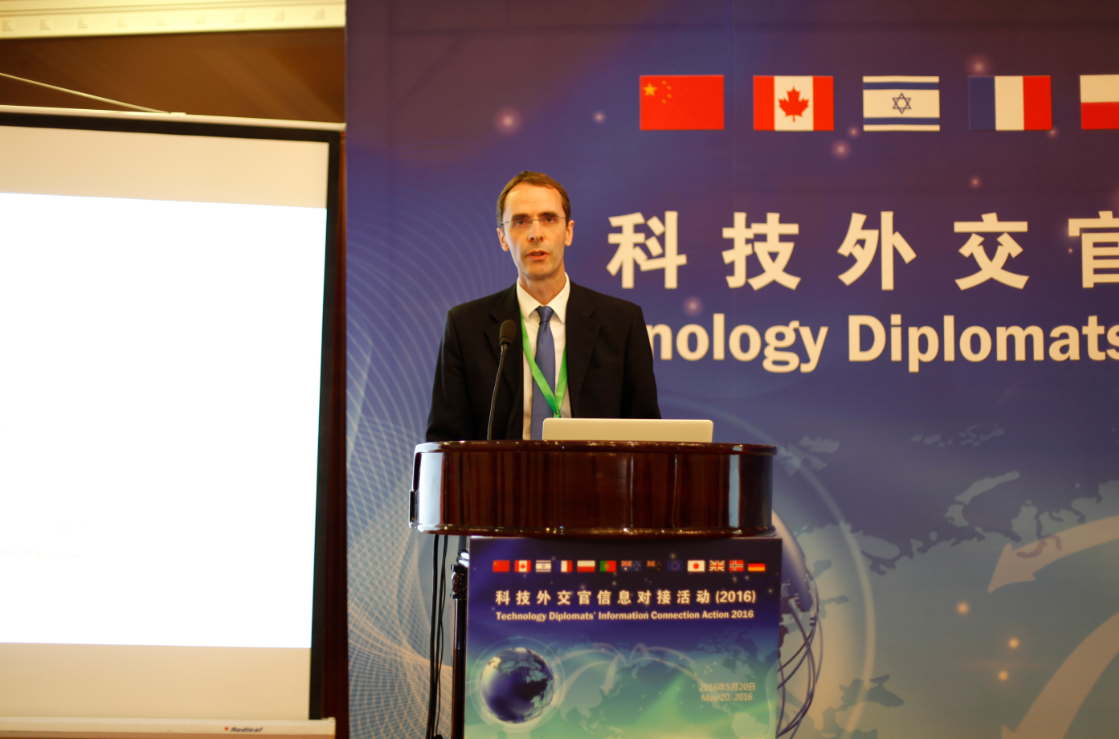 Mr. Ian Macintosh Delivering a Speech of "STI Resources in Australia"
According to Mr. Laurent Bochereau, Minister Counsellor of Science and Technology Division of European Commission Delegation in China, Horizon 2020, also known as the EU's eighth research framework programme, is the extension of a series of the EU's research progammes whose implementation is expected to promote research, industrial, business, social and other areas across the European Union. The €77 billion programme covers major research projects at different levels and will be implemented by 2020. Then investment in research and development will account for 8.6% of the total fiscal budget of the EU. The programme consists of three parts, i.e. fundamental research, applied technology and coping with common challenges, where the last part which represents the highest budget of €31.8 billion and involves research in areas such as climate change, green traffic, renewable energy, food safety and aging. "In the opinion of European leaders and European Parliament, Horizon 2020 is a way for the EU to boost economic growth and create jobs and is an investment in the future," he said, "Horizon 2020 encourages open international collaboration in research and innovation. Participation of research institutes from all countries including China is welcome".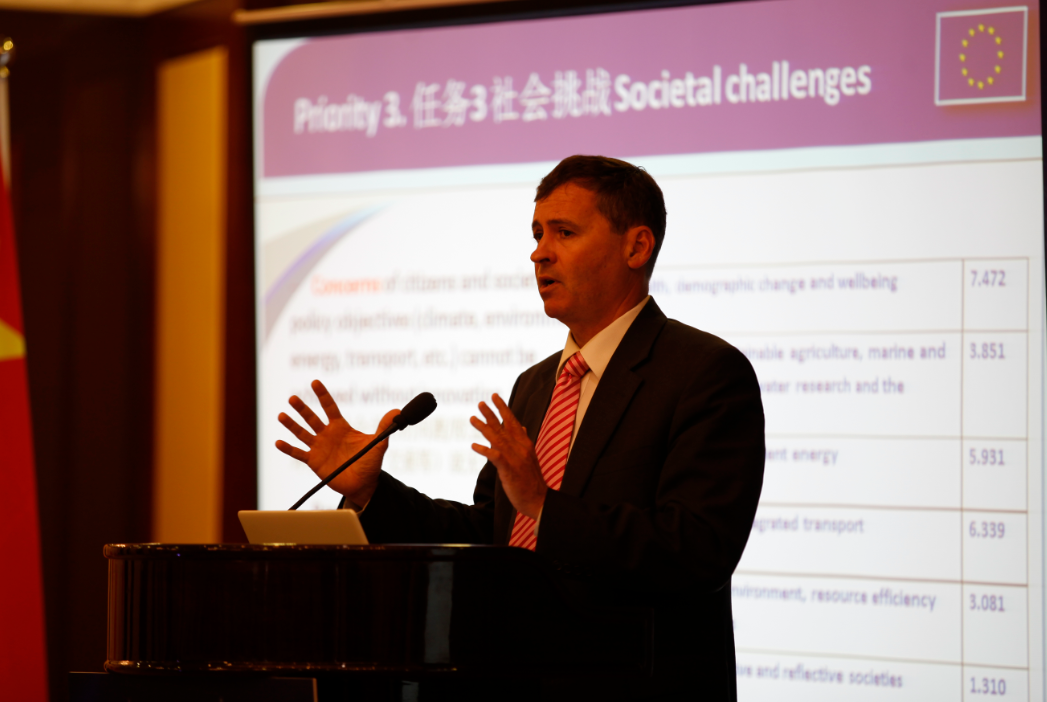 Mr. Laurent Bochereau Introducing "EU STI Policies and Programmes"
At the information connection session in the morning, guests from embassies and organizations of the EU, Canada, France, Poland, Portugal, Australia and New Zealand delivered speeches about local STI policies, resources and development trend. Haimen (Jiangsu) and Chengdu (Sichuan), as representatives of the Chinese side, showed local economic development, S&T conditions and "entrepreneurship and innovation" environment. The French delegate presented a very attractive S&T cooperation project. Speakers from Japan and Canada shared their experiences with IP strategy and new international innovation model.
This Action for "gathering international STI innovation policies and information" was co-hosted by Beijing Technology Exchange & Promotion Center and China International Technology Transfer Center, organized by ChinaWorth Global Tech Consulting (Beijing) Co., Ltd. and consisted of the information connection action in the morning and the "STI- boosted internationalization of green and health industry" themed roundtable in the afternoon.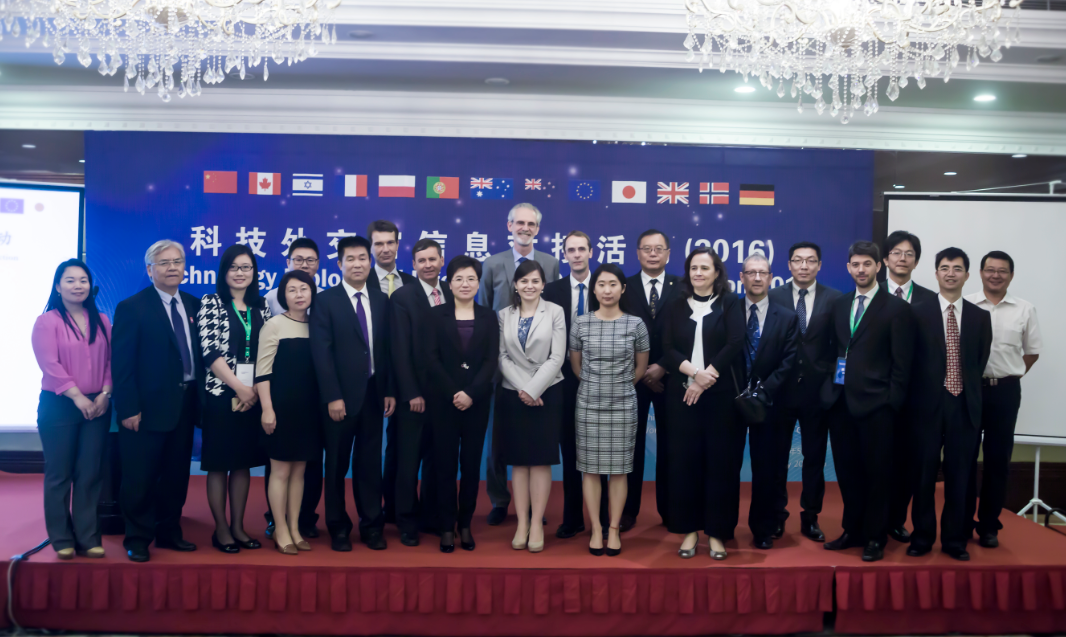 Scene of the Activity